Everyday Advocacy
---
Advocacy:
the act or process of supporting a cause or proposal.

Advocate:
a person who pleads for or in behalf of another; intercessor.

Everyday Advocacy:
Everyday advocacy is the simple, small work anyone can do that promotes positive change, facilitates the empowerment of others, and gives voice to the voiceless. Do you have a story to tell? Share your work with others!
Giving Them a Voice: English Teaching at the Backstretch of America's Racecourses
ITBE Advocacy Chair, Yurimi Grigsby interviewed Marie Friesema about her experiences advocating for her ESL students. Here is what they talked about...
ITBE: At the 2014 ITBE Convention, you presented on a very unique topic. Tell us about the work you've been engaged in.
Marie: For America's racetrack workers, access to good quality English education is not as readily available, primarily due to their transient lifestyle. Furthermore, volunteers who often teach many of the ESL classes offered at these sites don't have adequate training in English language teaching. My work falls under migrant education. While it is necessary to provide these racetrack workers with the strategies and skills for English competency, migrant education at the "backstretch" of the racecourses is about giving a voice to and addressing the basic human needs of one of the most impoverished, undereducated, and overlooked of all minority groups
in the United States. Migrant education is no longer just an academic concern, but also a human rights advocacy issue. Without the ability to effectively communicate in English, most remain isolated from and afraid to interact with the surrounding culture. Some remain a silent minority that is vulnerable to unfair business practices by employers and to being treated as nonentities by the larger society.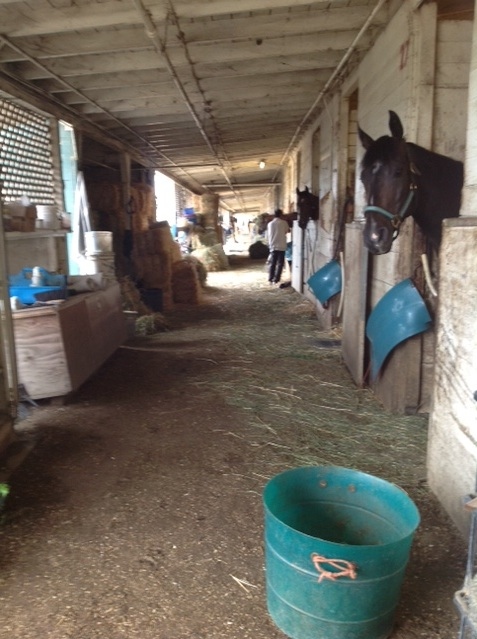 "The office" - a typical horse barn.
Since 2009, I have been a volunteer ESL instructor to the Hispanic migrant workers who care for the horses at the two Illinois thoroughbred racetracks. They have limited English proficiency and literacy and lack the communicative ability in the workplace. There are over 200 families and 1500 workers at each track during each of the racing season. From October to April, they work at Hawthorne Racecourse in Cicero, IL, a predominantly Hispanic area they consider their home base. Some own their own homes or rent low-income housing near the racetrack, and their children attend the local public schools. However, most live in dorm style housing right next to or above the horse barns. From May through September, the Illinois families migrate north to Arlington Park Racecourse for the spring/summer racing season.

Each household is assigned to a dorm style room with no cooking facilities. Some rooms may have a bathroom that provides running water; others must use the community bathrooms in the building. Some families may have cars, but most walk or ride bicycles to venture outside the gated racetrack community. Because Cicero schools are still in session at the beginning and end of the summer racing season, hundreds of the children are bused an hour each way between Arlington Heights and Cicero to attend classes.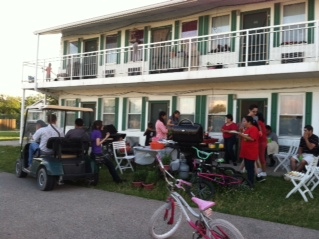 These photos show the living conditions of the racetrack workers.
Left: ESL class picnic outside the dorms. Right: No kitchens...no problem. Making dinner on the grill.
Access to the racetrack is very limited; outsiders must go through the security check to gain entrance. Nevertheless, the needs of these migrant families are compelling. One observer noted: "At the backstretch, the horses are king and the odds are against the workers, where migrants toil for low wages, knowing that the animals are worth more than they" (Hedges, 2000).

My primary work aims to provide these families with ongoing specialized forms of education in the areas of family literacy and English language acquisition. Since the workers can't go to school, I want to bring school to them.

ITBE: How did you get started in this work?

Marie: In the summer of 2009, my husband and I volunteered to teach at the racetracks through a local church ministry. It was an 8-week program, and classes met twice a week for an hour and half each session. Students were at either the absolute or low beginning competency levels in English. About 26 volunteers divided into teams and were assigned a group of 4-6 students to teach one night; another set of teachers taught the same group the other night. We didn't have a classroom, and classes met from 7-8:30 at night under the trees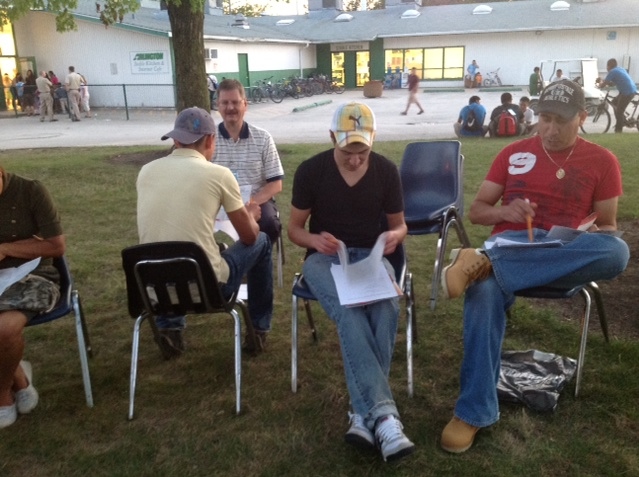 Classroom under the trees - Summer 2012.
at the parking lot with just folding chairs to sit on. We brought our own pencils, paper, and small erase board; we created additional supplemental materials with no support from the ministry leaders. Needless to say, this was the impetus that caused me to pursue a graduate degree in TESOL to learn how to teach and serve this group better. I also want to be a professional resource for those who want to establish quality ESL programs. For the next two years, my husband and I focused on tutoring a married couple but ended up doing family literacy because we not only taught survival English but also helped with the children's homework, e.g. pre-algebra, reading, writing reports, and helping with a filtration science project. We also helped them set up a computer, email, and started them on a typing program.

In summer 2012, at the request of the local church and racetrack leaders who oversaw services at the backstretch, we returned to Arlington Racecourse to coordinate and teach the ESL classes. We still are the only teachers thus far, but we are committed to improving our services and providing more resources to help take them to a higher level of English competency in order that parents may also become active participants in their children's education.

ITBE: What has been the impact on the participants?

Marie: According to the students, we're the only English speakers they interact with every week; no one speaks English to them at work, if at all. The ESL classes and field trips have given them increased confidence to venture out and interact with other English speakers in the stores and local restaurants. Whether in class or at social activities, students have been able to share their culture and work knowledge with us. Through in-class dialog practice and casual conversation, they have also overcome the awkwardness of speaking English to each other. Our family literacy approach encourages families to learn together, use the library and the English lab, read together at home, and empowers parents to help with children's homework. Most importantly, they know they have an advocate who's committed to helping the whole family and who will be their voice in the English world.

ITBE: What did you notice about the participants that you otherwise would not have known about them?

Marie: Although they are stereotyped as illiterate by some unfamiliar with their world, the workers are highly knowledgeable about equine care and the horse racing industry; they are expert horsemen who care for and train multi-million dollar horses. I also learned that they are not able to defend themselves against false accusations from employers, and are also marginalized by some school employees and teachers because "they don't like the racetrack children." Nevertheless, they continue to persevere through hardships and lack of resources, make the most of very little money and time, and find joy in spite of their living circumstances. The backstretch is a close-knit community of generous and polite people who are proud of their heritage and willing to share it.

ITBE: What were the challenges and obstacles you came up against during your work?

Marie: Although we have gained progress in procuring seasonal classroom spaces, we still face the following obstacles and challenges as we continue to rebuild the racetrack ESL program:
Limited access to the racetrack; lack of support from the IL racetrack management and the industry as a whole.

Lack of transportation for students between the racetrack/home and ESL classes.

No established funding. All program expenses have come from our own personal funds. Our transportation costs include fuel and tolls between home and the racetracks (140-150 miles each week using two cars in the summer; 70 miles each week using one vehicle during the winter). We underwrite all curriculum materials, school supplies, field trips, and most social events.

Challenge to find a permanent classroom location. Summer programming is still dependent on available space each summer at the public library. A lack of adequate space and resources at the church during the winter, e.g. no photocopying or technology capabilities, limits how many students we can serve.

Difficulty in finding a curriculum and creating lesson plans that are effective in this teaching context with rolling admission and erratic attendance.

Teachers and volunteers to expand the program at both locations.

Commitment of time and the challenge of balancing our full-time jobs, another teaching position, grad school, and other commitments in addition to the racetrack ministry.



ITBE: What inspires you to keep going?

Marie: I grew up in the Philippines, and I, too, was once an English learner. Both my parents and teachers instilled in me a love for learning and a sense of compassion to help those in need. I saw a great need at the racecourses, not just for education, but also for an advocate who will fight for the workers' right to basic education. For me, teaching English is a Christian mission. I am mindful that they are not going to care about what I have to say until they see that I care. My husband and I have gotten to know them, and the bond that has been forged is no longer among students and teachers, but among friends.

ITBE: How will you move forward and continue with your work? What new things are happening?

Marie: Our needs and goal were the same every season - to find tables, chairs, a place to prop an erase board and a roof over our heads so we can hold classes. We needed a consistent place to meet so we could make long term plans towards a viable ESL program for this migrant population at both racetrack locations.

After four years of trying to find a classroom of our own, I finally forged a partnership with a Hispanic church in the Cicero area. They bus 80-90 racetrack kids to their AWANA program each week, and they asked if I could teach an ESL class on the same night to the racetrack parents and other church members who wanted to learn English. Needless to say, in Fall 2012 we were given a classroom for the winter racing season; we completed our second session there last year.

However, in Summer 2013, I was not given access to Arlington Racecourse to continue teaching there. I learned that backstretch funding for adult and children educational programs have been suspended indefinitely from all former supporters – racetrack management, racetrack chaplaincy, and the local school district. Nevertheless, our former students returned and requested that we teach them again. Unlike the situation in Cicero, we still did not have a place to meet at Arlington.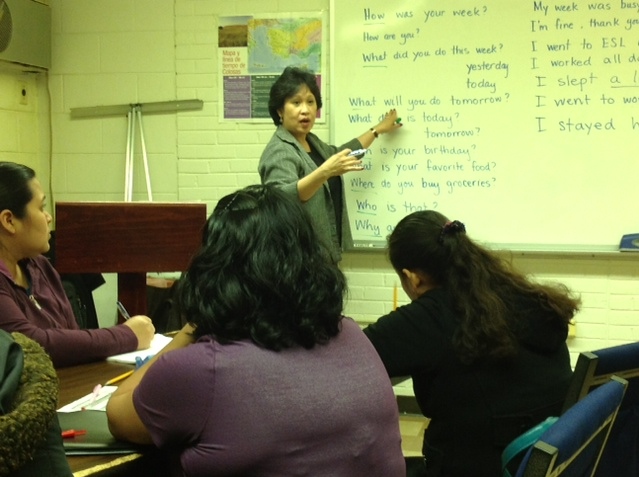 Finally a classroom! Winter 2012-2013.
I then contacted the local public library and asked if we could use a room there for our ESL class. As it turned out, the library already has an ESL program and computer lab and tutors to help ELLs use the software and ESL library. After a meeting with the director, I became a full-fledge library volunteer and could then teach under the auspices of their ESL program; they gave me freedom to create my own curriculum and lesson plans. All racetrack workers now have full library privileges after they apply for a seasonal library card, whether or not they attend the ESL class. The partnership with the library also gave our students access to laptops and a technology-laden classroom that provided access to myriads of ESL resources through the Internet. We are on our second summer session at the Arlington Heights Memorial Public Library. At the students' suggestion and cooperation with track security, we recently added weekly cooking demonstrations at the racetrack grounds to allow for more meaningful communicative activities as students share their culinary skills with each other in English. We are also in the process of soliciting support from horse trainers and owners for our summer program. We are grateful for these partnerships, and we look forward to serving more ELLs from the racetracks.

ITBE: How can others get involved and help? What do they need to do?

Marie: Some of our most urgent needs are:
Additional transportation between the racetrack and the two ESL class sites. We would like to recruit more students and ensure that those who don't have cars can get to class. Volunteer driver commitment is about 3 hours a week, plus commute time from home to class.

Additional ESL trained volunteers/teachers to teach one night a week to begin with. With more volunteers, we can recruit more students and expand the program. We also need volunteers to help teach the children during the summer session.

Computers and internet access at the church during the winter session so that we can utilize CALL in class.

Funding or in-kind donations for ESL workbooks, school supplies, copying costs.
If anyone is interested or have questions, please contact me at mfriesem0711@yahoo.com. Thank you.

References

Hedges, C. (2000). Where horses are king, odds are against the workers; Hispanic migrants toil for low wages, knowing the animals are worth more than they are. New York Times. August 31, 2000. Retrieved from http://www.nytimes.com/2000/08/31/nyregion; accessed July 5, 2014.

Photos courtesy of Marie Friesema.