Thomas Hansen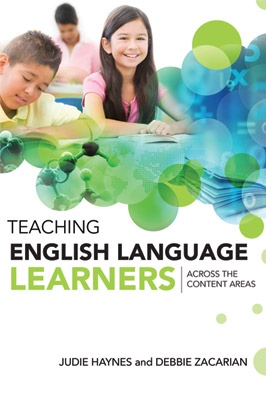 Title:
Teaching English Language Learners across the Content Areas
Authors: Judie Haynes & Debbie Zacarian
Publisher: ASCD
Year: 2010
Pages: 183
As in all of my reviews, I try not to give too much content away, thinking the readers themselves need to get that on their own. That same approach is the one I use here, and instead of giving too much away, I will talk about the way the book is organized and some ways to make use of it.
This is a solid and often-used book for helping teachers who have not yet taught a lot of English language learners (ELLs) in their regular classrooms or in their content area classes. The book is also often used in teacher certification and endorsement courses, as well as professional development sessions. Although not new, the text nonetheless contains a lot of great ideas for use by teachers who wish to welcome ELLs into a setting where they can thrive.
The book contains nine chapters: Creating an ELL-friendly Learning Environment; Lesson Planning to Ensure Optimal Engagement of ELLs; Small-group Work and ELLs; Content Vocabulary Instruction for ELLs; Reading Comprehension Instruction for ELLs; Writing Instruction for ELLs; Homework and Assessment for ELLs; Communicating Effectively with Parents of ELLs; Effective ELL Instruction in Action. Of these chapters, the one on small-group activities is the one I find the most interesting. In this chapter, the teacher can find many interesting strategies on how to include students of diverse language levels in the learning. Assigning the students different tasks and duties is essential for helping ELLs participate in ways that they are able. Haynes and Zacarian have some very interesting ideas, which I will leave for the readers to explore.
I think immediately of an additional use for the book. I can see that many of the strategies and hints for getting beginning language users involved in ways they can handle can be applied to world language classroom activities (WL) also. Often, there are groups of students within beginning levels of the WL program who are struggling and at lower levels than others in the same class who may have had more exposure to the target language, who may be heritage language learners, or who may be excellent at language activities. Finding ways to include the students who need accommodation and encouragement can be frustrating sometimes. However, I can see how some of these ideas are very good ones for use in WL activities also.
The book includes appendices: Suggested Verbs to Use When Composing Language Objectives; Lesson Modification Worksheet; Home Language Survey; and Glossary. There is also a good bibliography (for 2010) and some of the resources available (back then, anyway) from ASCD to help teachers reach and encourage ELLs. This is a reliable book, and the resources and ideas were good in their day. Some of the activities and strategies for getting students involved in them will still work and are good to add to one's repertoire of teaching tricks.
Overall, this is a good solid book to have in your library. One short important note is that the book is not very much an example of constructivism--for teachers or for students. It is more prescriptive in its approach and tone. Also, the book has more of a "phonics feeling" to it than a "whole language flavor." One example is the advice that teachers should "preteach vocabulary" (p. 56) and another example is "teaching ELLs to pronounce new vocabulary" (p. 61). The jury is still out on which approach is best for most students.
With the above in mind, you may get some interesting ideas for classroom activities in the different skills areas and especially in helping ELLs deal with the language and terms needed for studying in the content areas. I see the use in WL classes also, especially when there are advanced speakers and/or heritage speakers in the same level as students who need more help getting involved in the target language discussions and other activities.